Welcome to the Secreti Haus Rottweiler blog!
We breed rottweiler puppies for the betterment of the breed and hope we can be a good resource for you. Whether you're already a proud rottie owner or are looking for rottweiler puppies for sale, you can count on Secreti Haus.
Our home base is located in Deer Park, NJ. It is here that we have built our standards for raising and sharing this intelligent breed. As a code of ethics breeder that follows the FCI and ADRK German standards, we proudly dedicate our lives to breeding European bloodlines that are proven and consistent.
Since childhood, our founder Joe Secreti has actively bred intelligent dog breeds. He is passionate about training and serving working dogs, including German shepherds, dobermans, and finally rottweilers. What first struck Joe about working with rottweilers nearly 25 years ago was the loyalty, strength, confidence and remarkable balance of this breed. It was these qualities that helped build Joe's career of training and showing rotties.
Now, Joe is happy to share his passion and experience with you, our readers. In our blog you can look forward to learning more about what makes the rottweiler breed unique, training tips and tricks for basic behaviors and advanced skills – such as those necessary for showmanship and guarding, and you will also learn a few things that can make you a better owner to your rottie.
We will also gladly showcase any new rottweiler puppy litters we welcome to the family!
Get to know the Secreti family by connecting with us on social media and following our gallery pages.
Like us on Facebook to watch videos and be the first to know about new blogs and other happenings.

Follow us on Instagram for adorable puppy pictures.

Subscribe to our YouTube channel for a personal look into what it takes to produce a well-balanced family dog like the rottweiler.
Family Photos
We have an entire photo collection dedicated to the rottie pups and our family, which shows how great of family and guard dogs rottweilers can be.
Work Photos
We'll also share our new adventures with the dogs as they work. Whether it's training them to be guard dogs or practicing agility, the working pictures give a good look at the effectiveness and intelligence of this breed.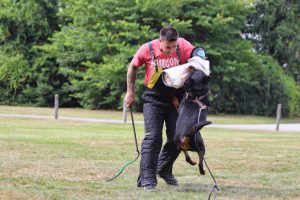 Show Photos
One of the last ways we document our rotties through photos is when we show them. While it is mostly Joe who does the work, we love to have the family involved in the competitions. Check out our show pictures to see our beautiful rottweilers on the blocks.
How To Buy A Secreti Haus Puppy
Ultimately, this blog will be most beneficial to rottweiler owners. If you already are the proud parent to a rottie, check out the rest of our posts to get down to business. If you're ready to welcome a new furry friend to your family, start a puppy application to begin your journey.
We look forward to sharing more about our passion for rottweilers with you.
Contact us today if you have any questions, comments, or pictures of the Secreti Haus Family.